Report on franchising in Poland 2017
In 2017 the 1 220th brand will debut on the Polish franchise market – shows the Report on franchising in Poland prepared by PROFIT system. Most of the new systems arise in food service and grocery.
The past year was another, in which the number of franchise systems increased. This year the number of franchisees companies may exceed 74,000. The economies of scale is the main reason why the entrepreneurs decide to cooperate in franchising regardless of the situation on the market, e.g. in the form of better conditions of supply. The importance of franchise is best exemplified by the retail, where despite the general decline in the number of stores, their number is steadily growing in franchising. Here also operates the largest network "abc" belonging to the Eurocach (8,605 stores).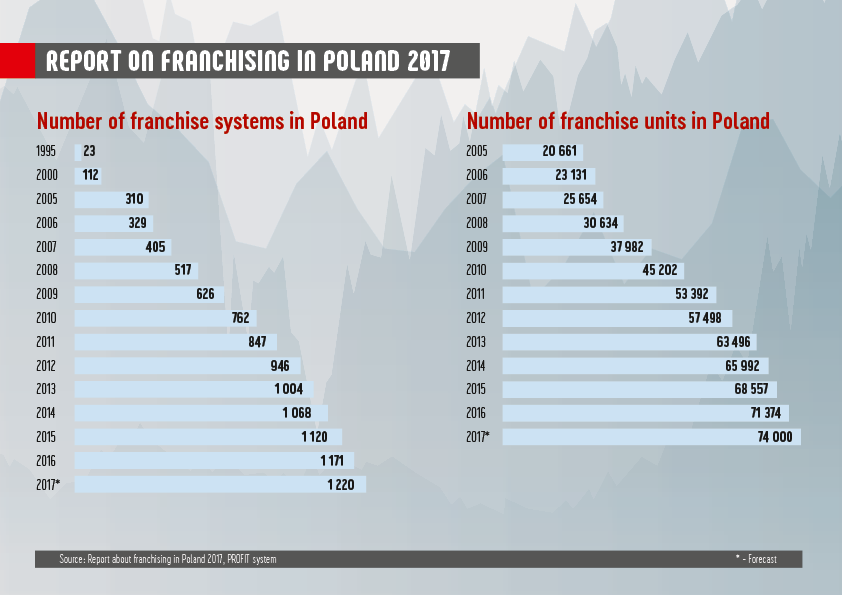 In total, in 2016, 113 new franchises appeared on the market. At the end of 2016 the total number of franchise systems reached 1 171. During 2016, 62 companies decided to quit the franchise market. Most of them were food service (12) and home articles (9). The difficult situation on the market has taught potential franchisees to choose only the best deals. 43,4 % franchisors reported an increase in the number of franchise outlets in 2016.
Average investment in the franchise in 2016 amounted to PLN 216 000 in trade and PLN 127 000 in services (without hotel companies). Much more often - also because of the price - the franchisees chose Polish systems, which constitute 85.0 % of the market. Polish franchisors are increasingly choosing to expand abroad. The report by PROFIT system shows that already 127 indigenous systems have at least one functioning institution abroad.